Viral Acharya: Apna Future Hai Japani?
Viral Acharya on Japanification and the current state of Indian banking
If you have ever listened to an RBI governor or read their report, or even watched a macroeconomics video, there are so many moving pieces that it can be difficult to understand it in simple terms. But one message was very clear from Viral Acharya's (Ex-RBI Deputy Governor) recent interview - that India is in the shoes of Japan of the 90's. He indicated that growing NPAs would weigh negatively on the economy's growth.
Does India's economy actually look like Japan of the 90s?
Post-war Japan was a powerful growth engine. Real GDP grew at 10% annually in the 50s and 60s and at about 5% in the 70s and 80s. By the mid 80s, Japan's technologically advanced products were giving stiff competition to their western peers. The US decided to tackle this by making the dollar cheaper, making Japanese exports comparatively costlier as a result and therefore less competitive.
Finding the Yen more valuable, people started hoarding it and channelled in it into buying real estate and stocks. Between 1985 and 1990, the Nikkei stock index grew four-fold. However, poor performance in the export market meant that Japanese firms were actually underperforming. To give a boost to economic activity, the government decided to shift focus from exports to domestic consumption growth through a series of interest rate cuts in the late 80s.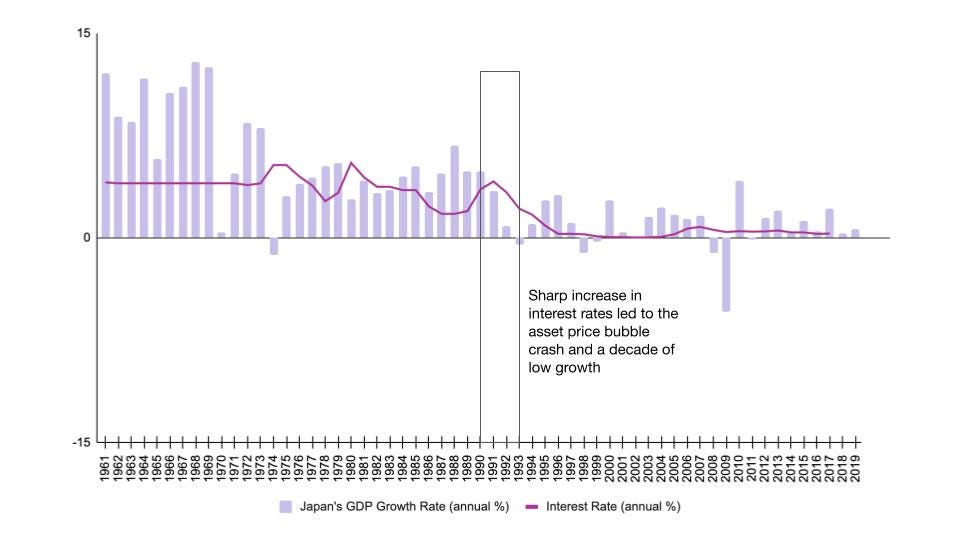 Money was pumped into the banking system with the support of the Bank of Japan - and the banks in turn lent it to failing companies. Consequently, the banks ballooned up in a low growth environment - balance sheets of commercial banks doubled between 1980 and 1990.
Due to an increase in money supply, inflation shot up as growth remained low (too much money chasing too few goods). Japan's central bank attempted to reign in the inflation by raising interest rates. But since the economy was overheating without any underlying growth, this decision proved to be fatal - the asset price bubble burst in 1990, slashing Nikkei by half. The next decade marked a period of low growth and Japan struggled to emerge out of what came to knows as a 'liquidity trap'.
According to Viral, Japanification is a serious concern
What's different for India is that we do not have full capital account convertibility (CAC - a measure of how easily a country's currency can be converted into another currency through global exchanges). CAC is the key to growth for a capital starved country like ours. According to the Tarapore Committee Report of 2006, India needs to strengthen its financial system to be stable enough to handle the floodwaters of full-CAC implementation. The most important aspect of this is reduction of NPAs, which saw a minor improvement in 2019. But covid-19 appears to have disrupted the NPA reduction path as well. According to HDFC bank's latest CEO, "If you talk to bankers, they say that on existing MSME portfolios, NPAs are 12.5%". RBI too expects the country's bad-loan ratio swelling to 12.5% by March 2021, the highest level in more than two decades.
Low asset quality is leading to a phenomenon of low transmission of repo-rate changes to end customers. So when RBI cuts rates, it only ends up adding to the losses of banks (as they are unable to increase their lending rates and defend margins), with little impact on the general public. However, banks are slowly starting to lend at rates linked to the repo-rate but for now, their balance sheets are ballooning in a low growth environment (which is true globally) coupled with rising inflation.
The key difference in India's scenario compared to Japan's is that much of our economic output caters to domestic consumption, and the RBI's primary target is inflation control. Japan's mistake was waiting until the last moment and acting abruptly. Thankfully, RBI has been continually focused on NPAs. Of course, the pandemic has created additional constraints - making it difficult for any central bank to tighten their purse strings. Now the question we are facing is - how quickly can we bite the bullet, minimize hurt to the economy as a whole, and switch gears into a growth mode.
About the author: This post is written by Jayaditya Sirasani with relevant edits from our editorial team. Jayaditya is a graduate from IIM Calcutta and currently works as a management consultant with Accenture Strategy.
GSN Invest: We cover India's 70 leading public firms in our GSN Invest++ program. Do subscribe to read more on the moats, drivers, and financial metrics of the firms.